FAMOUS MEMBERS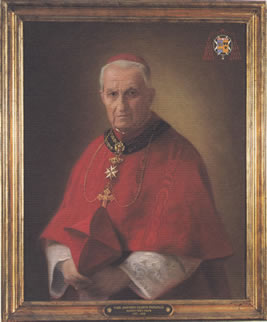 Cardinal Gennaro Granito -Pignatelli di Belmonte ( 1851-1948)

Gennaro Granito-Pignatelli di Belmonte :
Cardinal and Nuncio, born in 10.4. 1851 in Naples, † 16.2. 1948 in the Vatican. - son of Paolina Pignatelli y Americh and Angelo Granito –Pignatelli Prince of Belmonte and Marquis of Castellabate .
On 7 June 1879 became priest . He worked first as a secretary of the archbishop of Naples and when in the year 1884 the Cholera raged Naples, he carried and assisted many patients out to Hospital. The Pope Leo XIII assigned him to promote the participation of the Catholics at the local elections .
In 1895 he joined the Vatican at the Congregation for the Extraordinary-Church Affairs.
He also participated in the coronation of Zar Nikolas II in the year 1894 and in the 60th government anniversary of Queen Victoria in 1897.
On 26 November 1899 he was appointed bishop.
On 5 December 1899 he was sent Nuncio in Belgium. On 5 January 1904 he was appointed Nuncio at the Viennese Imperial Court.
In 1906 , a first attempt to introduce the divorce in the Austrian legislation , was blocked by his intervention.

On 6 January 1911 he returned to Rome.
In June of the same year he led the papal legation for the coronation of king George V of England.
On 27 November 1911 he was elected Cardinal.
Then he became Prefect of the Congregation for the Protocol and Dean of the Sacred College of Cardinals .
In 1914 was papal envoy to the international Eucharistic Congress in Lourdes.
He took part in Rome in 1928 of the preliminaries of the Lateran Agreement with the Italian Government .
He died in the Vatican at the age of 97.